Sometimes it's the little things that really matter. They make you happy for the simplest reason.
Although I am house sitting and not sleeping in my own bed, I am happy to say this bed is very comfy and I have been getting Lots and Lots of sleep. Sure I have been watching all sorts of movies with the boyfriend (we went from The Help to Battle Los Angeles yesterday) and have been going to sleep at around 2-3 in the morning... but we make up for that by sleeping like dogs because well, this is the most useless week in the year!
I live with my parents and have a longer work schedule, so I tend to get home and have dinner made for me, (don't hate me!)
So this week I have cooked Dinner all week for the boyfriend, I tried a few new recipes and have some real winners! It is so much fun when you don't have to stress about timing and things after, because...again it is the most useless week ever.
3. Revlon's Berry Haute Lipstick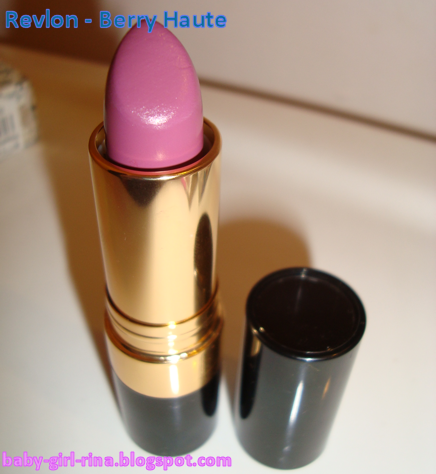 This week the most beautifying thing I have done was put some Paul Mitchell Skinny Serum in my hair after showering, so today since we are going to Fight Night at my sisters and I wanted to look presentable I chose to wear this lipstick! Revlon's lipsticks are so smooth that they feel more like lip balm. I scored this baby at the CVS Clearance sale for 50% off. It is such a fun color that works well with my skin tone and adds a little zest to my day
*btw, why is it that when you stop wearing makeup you break out more?*
My boyfriend treated me to a movie, we saw New Years Eve, about 5 minutes in I knew I wanted NYE plans, so I started thinking (yes during the movie) and once we got out I texted my moms bestie whom I am house-sitting for and asked if I could have a couple friends over to ring in the new year, she said yep so I invited a couple friends. I am going to be making dinner, and each of them will be bringing something to snack on. The boyfriend and I bought some new games to play and have movies galore, but I am sure we will watch the ball drop with Ryan Seacrest.. Yay for plans!
Well that's about it for now, enjoy your New Years Eve tomorrow and I will add a few recipes in the next post..
lovelovelove
M